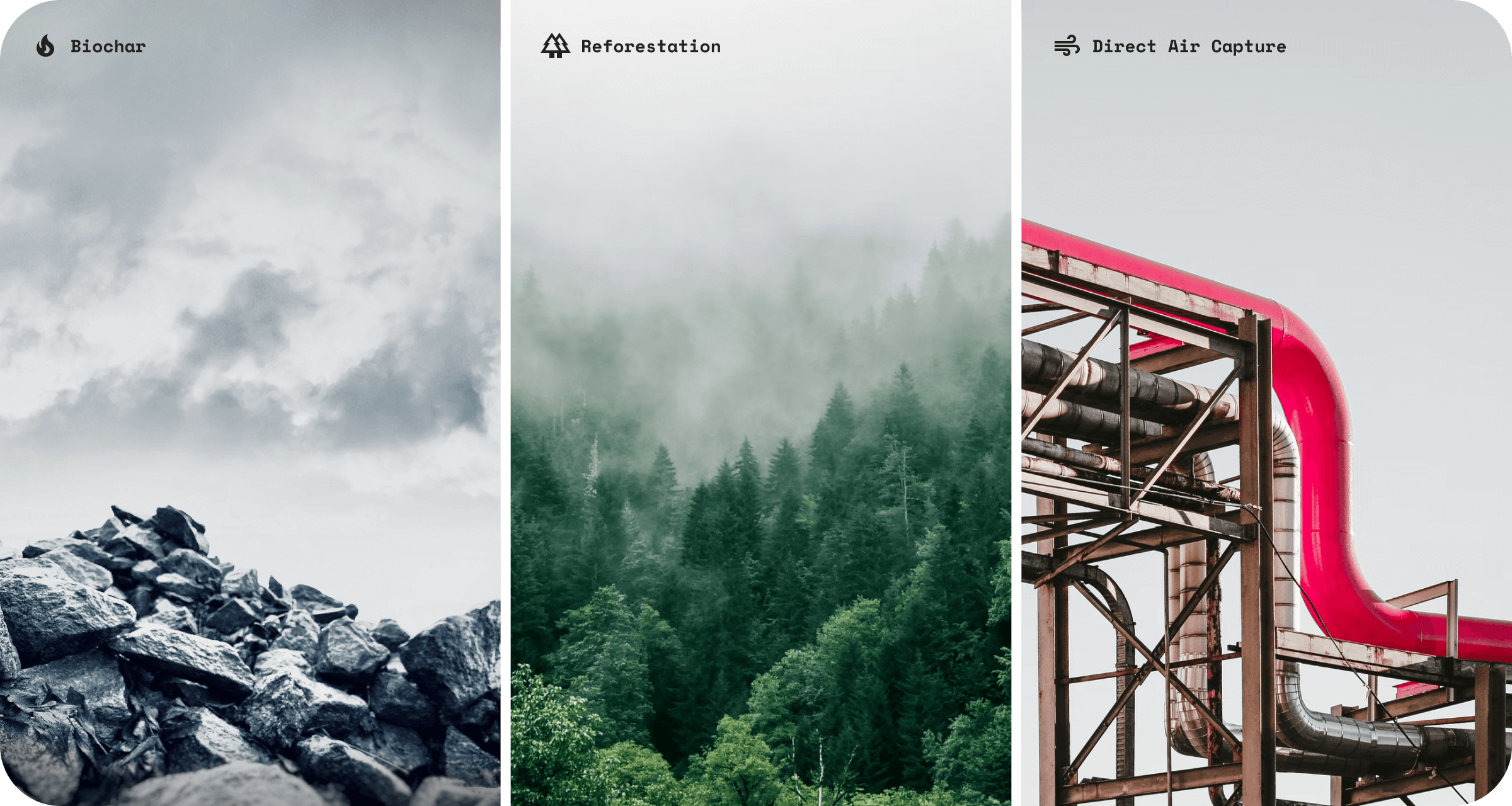 In carbon offsetting we compensate for carbon emissions by financing projects that make an equivalent reduction in carbon emissions, either by avoiding emissions or by removing carbon from the atmosphere.
There are many ways of doing this, meaning that there are a lot of different types of carbon offset projects – so in this post we'll give an overview of of the most common types.
In this post we'll be categorising projects based on two criteria – as per the advice of the Oxford Offsetting Principles:
If they are carbon removal or emissions avoidance projects
If they include carbon storage: a) no storage b) short-lived carbon storage c) long-lived carbon storage.
If you're not sure what these terms mean, you can find out more in our blog on the difference between carbon removal and emissions avoidance in carbon offsetting.
NB: typical costs are accurate as of spring 2022 - the cost of carbon is changing regularly!
Biochar
Biochar is a carbon-rich material similar to charcoal, produced by heating biomass waste in a low oxygen environment. It is typically then applied to soil where it will remain as a permanent carbon store, whilst also improving the quality of the soil for plant growth.
Typical cost: $120-240/tCO2
Category: Carbon removal; Long-lived carbon storage; Oxford Offsetting Principles type 5
Example: The Future Forest Company
Blue carbon
Carbon is naturally sequestered in the world's ocean and coastal ecosystems, including in kelp, seaweed, salt marshes, mangroves, and more. Blue carbon projects enhance this sequestration process by preserving or restoring these ecosystems to increase the carbon removal potential.
Typical cost: $35-240/tCO2
Project type: Varies
Example: Seaweed sequestration at Running Tide (carbon removal; long-lived carbon storage, Oxford Offsetting Principles type 5) 
Direct air capture (DAC)
The process of capturing CO2 directly from the atmosphere. Chemicals are used which bind with the CO2 in the air, and the CO2 is then separated to produce a stream of concentrated CO2. This CO2 can then be stored or used in an end product (such as construction) – known as direct air capture and storage (DACS).
Typical cost: $350-600/tCO2
Project type: Carbon removal; Long-lived carbon storage; Oxford Offsetting Principles type 5
Example: Carbon Engineering
Forestry – carbon removal
Afforestation: planting a new forest
Reforestation: planting a forest where a forest was cut down in the past
Improved forest management: introducing better land management practices resulting in increased carbon storage within forests
Forestry – emissions avoidance
Forest conservation: protecting a forest from deforestation, typically through incentivising landowners via income from carbon credits
Typical cost: $12-35/tCO2
Project type: Emissions reduction; short-lived carbon storage; Oxford Offsetting Principles Type 1 or 2
Examples: Rimba Raya
Mineralisation
Mineralisation is a natural process that happens when CO2 in the air reacts with minerals to become a carbonate, permanently storing the CO2 in solid form. There are two main applications:
Enhanced weathering: the natural process of mineralisation is also known as rock weathering. Enhanced weathering speeds up the process by rocks being ground up into small particles, increasing surface area so that they remove CO2 from the atmosphere more quickly. The resulting material can be used in construction, or dumped in the sea. 
CO2 injection: captured CO2 can be injected into a material where it will be mineralised, turning it into solid form and permanently storing it. This is being done by concrete producers, known as concrete mineralisation. 
Typical cost: $180-300/tCO2
Project type: Emissions reduction; Long-lived carbon storage; Oxford Offsetting Principles Type 3
Example: GreenSand (enhanced weathering), CarbonCure (concrete mineralisation)
Renewables
Building wind or solar farms in areas where most energy comes from fossil fuel sources, to reduce future CO2 emissions. Renewable energy projects are typically the cheapest offsets, and are an avoidance project rather than permanent carbon removal.
Typical cost: $6-12/tCO2)
Project type: Emissions reduction; No storage, Oxford Offsetting Principles Type 1 or 2
Example: Larimar Wind Project