Buying the world's best carbon credits should be safe, fast, and easy.
Yet, the reality for decades has been the exact opposite — slow, painful, and full of greenwashing fears due to the sheer amount of dodgy offsets out there.
And this slowness includes the retirement process. 
Today, it's standard that you wait weeks – sometimes even months – to receive the carbon credit certificate that proves your purchase has succeeded, that the relevant carbon credits have been retired on your behalf, and that real climate impact is being generated. 
Why does it take that long? Simply because it's always been that way. The traditional process is manual fulfilment and retirement, done through the consultant selling the credits and the registry holding them – and this takes a long time. 
The whole process is stuck in the 1990s. 
That is, until now. Today we're launching instant carbon credit retirements.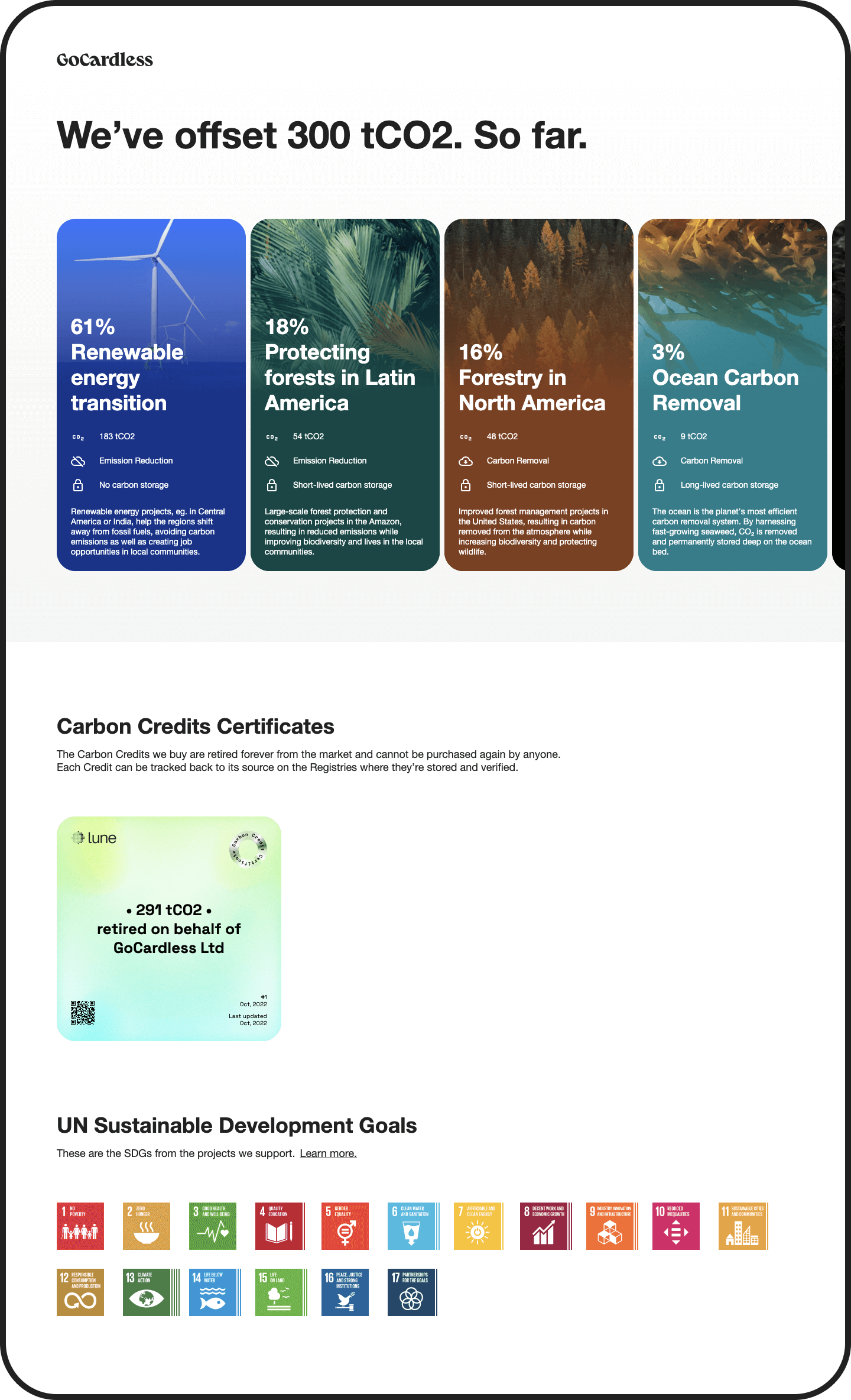 Lune is on a mission to help brand-conscious businesses generate climate action through their customers and supply chains — offering the best carbon projects on the planet for the lowest possible price. And we cannot achieve this mission without revolutionising the carbon markets and overhauling the status quo, including the expectation of waiting weeks to receive your carbon credit certificate. 
Instantly receive your carbon certificate
As an industry-first, Lune will now retire your carbon credits instantly after payment — welcome to the 21st century of carbon offsetting! This is currently available for select Verra projects with ex-post credits, with expansion to all Lune projects with ex-post credits coming soon.
Buy (and share) with confidence
After placing your order, your credit certificate will appear on a sustainability landing page that can be shared with customers across email, social media, customer communications, and wherever you see fit in your customer experience.

Experience radical transparency 
In order to rapidly scale climate action, how you buy carbon removal is just as important as what you buy. We filter out 90% of projects so that we only offer our customers the highest impact projects,, and share as much information as possible to help every buyer feel empowered with their purchase. Automating the carbon retirement process is another step in our goal to radically raise the bar of what's expected from the carbon markets.
Want to experience automated retirements for yourself? Head to lune.co to request access and make your first direct purchase in 2-3 clicks.