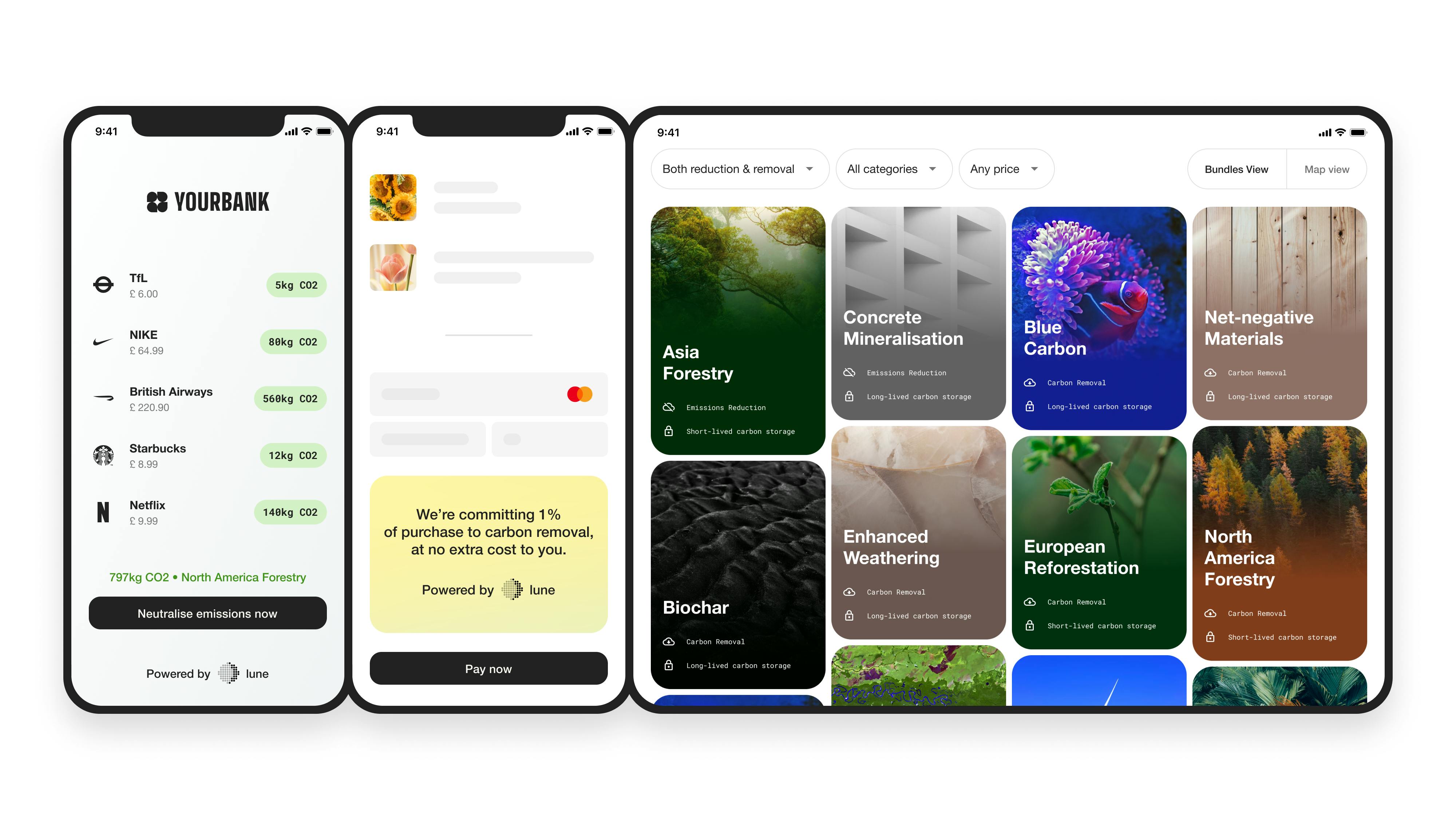 Delivering climate impact initiatives is often seen as a cost centre and a big undertaking, which has led to businesses being slow to act. Lune aims to change this by offering an API and software tools to make it easy for any business to integrate climate impact into their customer experience – starting with carbon emissions calculations and carbon removal. By making it a seamless part of the customer experience, businesses can turn real impact into a growth driver.
Today, the company announces a $4m funding round led by early-stage VC Crane, with participation from 15 reputable angel investors, including Maximilian Tayenthal (co-founder of N26), Fredrik Hjelm (co-founder of Voi) and Tony Jamous (co-founder of OysterHR & Nexmo).  
In many industries today, such as payments and banking, it is almost impossible to find any climate-friendly services – despite consumers actively searching for visibly climate-friendly products. Lune's research shows that over 70% of European consumers want a "green payment method" that tackles climate change. And in the retail space, three in four consumers are more loyal to brands that offset the carbon footprint of a purchase.
To address these challenges, Erik Stadigh, formerly a VC investor at Crane, and Roberto Bruggemann, most recently a Principal Engineer at Freetrade, co-founded Lune on a mission to make every product and service climate positive by default.
Erik Stadigh, co-founder of Lune, explains: "The status quo today is to create a Sustainability Report, which will be buried somewhere on a company's website – far away from the eyes of most customers. As such, the business never sees any commercial return in this area. Sustainability remains a cost centre and struggles to compete with revenue-generating initiatives.
"We founded Lune to make prioritising climate impact a no-brainer for growth-minded businesses. By integrating it into their customer experience, businesses increase customer acquisition, engagement, and loyalty – while having a measurably positive impact on the planet. And with Lune's API and low/no code tools for emissions calculations and carbon removal, we aim to make it so easy that there's no excuse not to do it." 
Lune partners directly with carbon project developers across the world to curate a diverse selection of high-impact and innovative projects. With Lune's API, a retailer can automatically calculate carbon emissions of a purchase and pay to neutralise it, while transparently allowing consumers to engage in the choice of carbon project. In a similar manner, payments companies can allow their merchant customers to contribute to removing CO2 from the atmosphere with every transaction.
Lune is still in the early stages of commercialisation but is already experiencing strong user uptake. Lune's customers include payments and fintech companies TrueLayer and Yapily, retail and logistics firms Apex Rides and Budbee, and global design company IDEO, among others.
Francesco Simoneschi, co-founder & CEO of TrueLayer, explains: "It is essential that every business becomes more climate friendly. For TrueLayer, doing right for our planet is important, an ethos shared by both our customers and our employees. Lune was the easiest way for our business to take the first steps, have a real impact, and continue building the future of the payments industry."
Roberto Bruggemann, Lune's co-founder, describes an additional benefit in integrating carbon removal into products: "An individual payments or software company's carbon footprint is relatively small. They should put effort into reducing it but, in the grand scheme of things, the impact on fighting climate change will be small. However, by giving all of their customers an easy path to contribute to carbon removal, the positive impact is exponential – and far more effective than going it alone."
Scott Sage, Partner at Crane comments: "Lune's innovation has come at the right time. There's never been more interest in climate and sustainability – from consumers and businesses alike. As investors, we've seen how every company has become a software company over the past decade. Similarly, we believe that Lune will enable every company to become a climate company."
The majority of the funding will be used to expand the team, enabling Lune to build more products to better serve its customers. The company is currently hiring across several functions spanning tech, product, commercial, and carbon markets.
Subscribe to our monthly newsletter – and get a free copy of The Complete Guide to Carbon Offsetting for Businesses