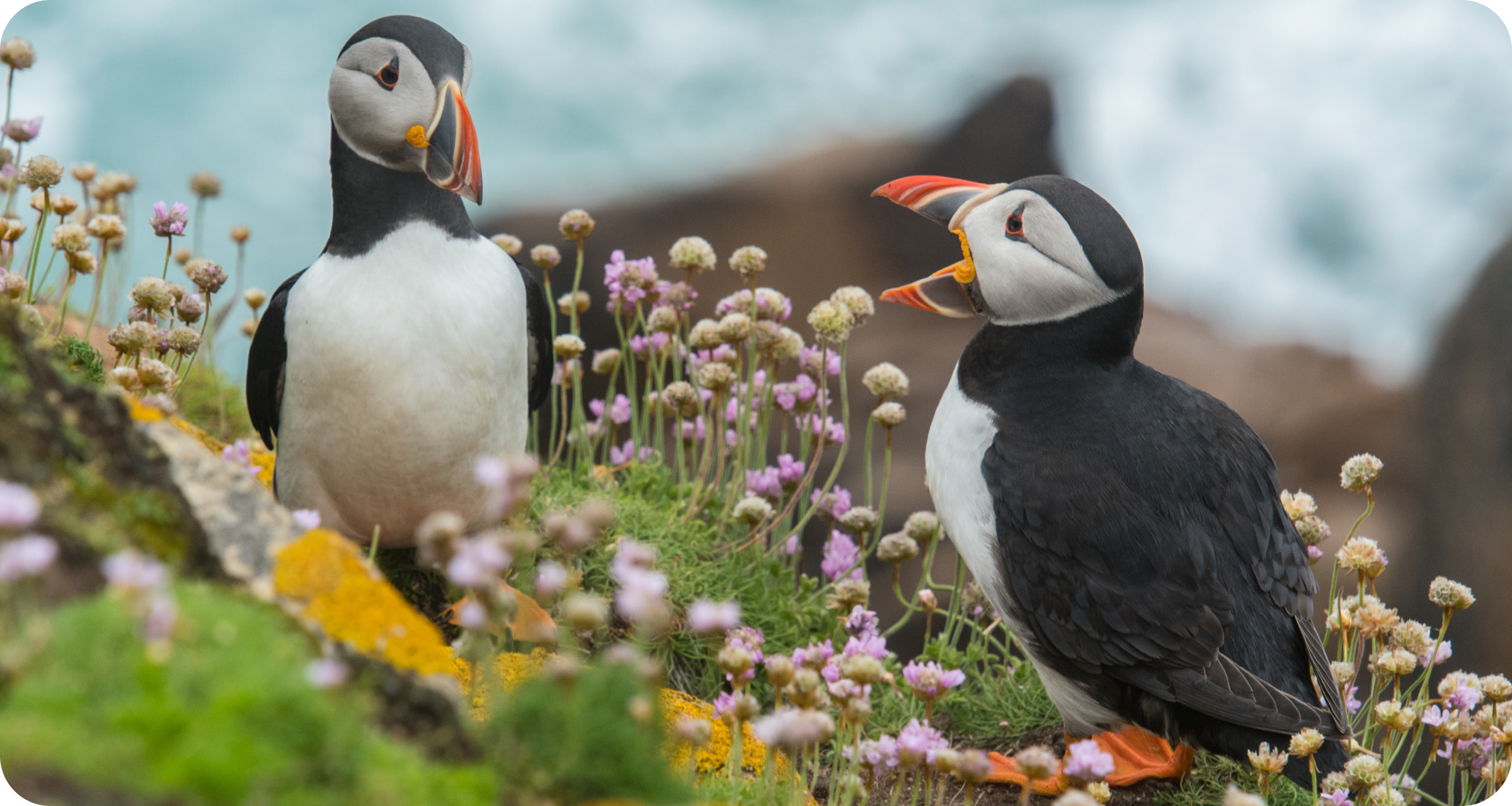 Sustainability makes good business sense.
But, it can be a struggle getting senior leadership teams to understand this and to prioritise it accordingly – McKinsey research found that only a quarter of CEO's have sustainability as one of their top three priorities.
If you're part of a sustainability team in a company – whether it's your job role or a voluntary passion project – this can be incredibly frustrating. 
We often hear from keen sustainability champions who are raring to go with climate initiatives, but aren't sure how to persuade their senior leaders to engage with them. Sounds like you? Then you're in the right place, because we're about to dive head first into the topic, covering:
Part 1: How to persuade senior leadership to make climate a priority
Part 2: The business case for sustainability
But first things first: a slide deck template for success
Before we get into it, we also want to share with you a slide deck template that we've put together to support you with presenting the business case for sustainability to your senior leadership team. 
We know that starting this kind of task is always the hardest part, so we've done that for you – all you need to do is tailor the content to be as relevant as possible to your specific company and stakeholders. 
Access the slide deck template >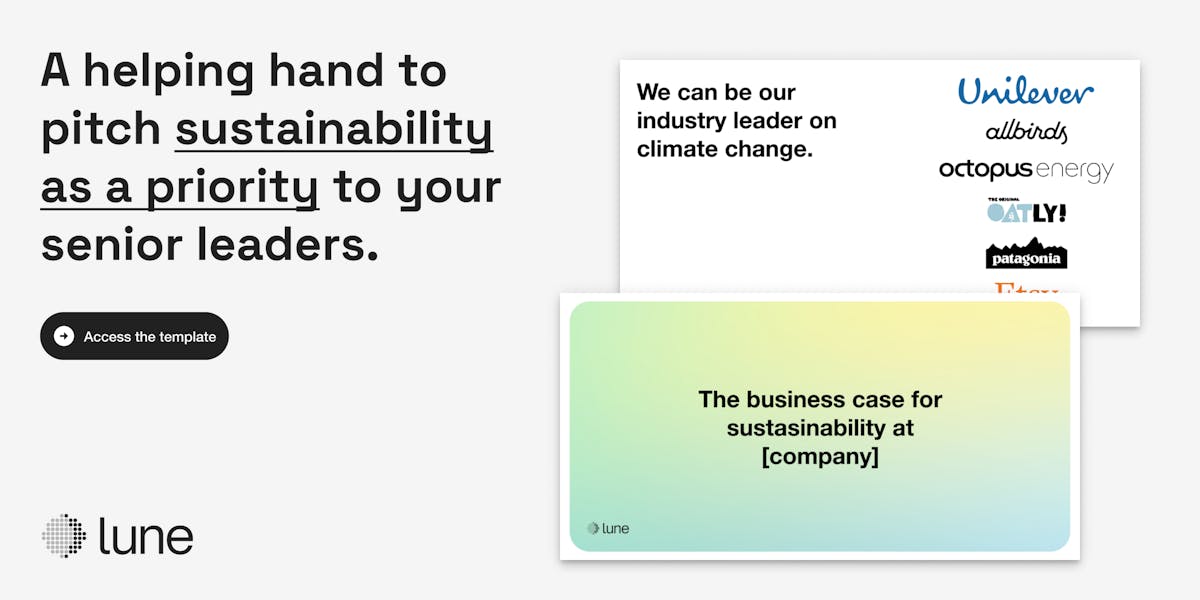 Part 1: Persuade leaders to make climate a priority
Our no.1 piece of advice when speaking with senior leaders and stakeholders is to make sure you're selling sustainability as a commercial proposition. 
In order to become a business priority it has to make good commercial sense. In the past, working on sustainability has been seen as a cost centre, and this may well be how your senior leadership team are viewing it. To win them over, you need them to see sustainability as a growth opportunity. 
Think of it like pitching any new project or initiative to a business, Dragon's Den style. Except that you've also got the climate scientists, school strikers, climate legislators and more standing behind you, adding weight to your argument from all possible angles. Combining the two is powerful.
Here's how we'd suggest you go about it:
Stage 1: Find your fellow sustainability champions
Stage 2: Do your research – get into the company's mindset
Stage 3: Build your business case
Stage 4: Set up a conversation 
Stage 1: Find your fellow sustainability champions
Working in a silo is never going to be beneficial, either for your workload or for your sustainability goals. Working with others will help to lighten your burden and bring different skills and connections to the table, whilst also increasing the pressure on senior management to take notice.
It's highly likely that there are others working at (or advising) your company who are just as passionate about climate change as you are, and would love to see it on your company's agenda.  Seek them out. Shamelessly stalk LinkedIn and Twitter for any signs of climate action amongst your colleagues – we dare you.  
Ideally, you're wanting to find someone who is influential in your organisation's decision-making process. This might be a senior member of the team, or it could be a prominent external stakeholder such as a board member, trustee, academic advisor or so on. Someone who, once on board, will be able to add backing and substance to your idea in conversation with those senior leaders – or even to help you gain access to the procedures or budget you need to make progress on sustainability. 
Alongside identifying senior champions, you could also create a working 'green' or 'sustainability' group at your company to work on sustainability with you. Something like this may already exist in your company. If not, it's as simple as sending an email or Slack message, or asking for something to be posted on your company intranet or in your staff newsletter.
Stage 2: Do your research – get into the company's mindset
The key concern of senior leaders is their commercial goals and targets.
And if you're going to successfully pitch sustainability to them as something that will help them towards those goals, you first need to understand:
What those existing commercial goals and targets are
What problems or blockers there currently are in hitting those goals
What the decision-making process is at your company for new projects
Who the key stakeholders are in that decision-making process
What the more specific goals, priorities, and motivations are of those key stakeholders
All of this information will enable you to create a strong argument for how sustainability aligns with and supports the existing commercial goals and priorities.
So do your research first.
Read your company's business plan back to front, rewatch CEO staff briefings, ask your seniors a tonne of questions. This is also where those senior sustainability champions come in handy – this is information they'll already have to hand and be able to give you insights on. 
Stage 3: Build your business case
Use the information you've gathered to develop the killer business case for sustainability at your company, based on how it fits in with the commercial goals of the organisation.  
We're delving deeper into what exactly the business case for sustainability is in the next part of this guide – and you can even download a free slide deck template at the end. 
For now, a few pointers on how to build an effective business case:
Speak their language – use the words and phrases that you've heard from senior management to bring sustainability into the 'known' for your senior management, demonstrating that sustainability is closely aligned with overall corporate strategy and not a separate, foreign, and risky entity. 
Provide evidence – back-up your claims with research that proves the business benefits that focusing on climate impact would bring. Bring examples and case studies of businesses in your industry that are successfully differentiating through sustainability. Show quotes from existing customers and fellow employees about their view on the company's existing (lack of) environmental work.
Create a vision for the future – don't be tempted to spend time criticising the company for the lack of work they've done so far on environmental impact. Instead focus on looking forward to the areas of opportunity for your business, for instance cutting costs, winning customer loyalty, becoming an industry innovator. Set out your vision for what success would look like in this arena, and how it would propel the company forwards. 
Stage 4: Set up a conversation 
Now you have everything you need to enter into a productive conversation with the senior leaders and decision makers in your company, so all that's left to do is set a time and pitch your heart out.
Our (free) slide deck template for pitching the business case for sustainability might come in useful here. 
Make sure you include next steps in the conversation, and ensure these are simple actions to get started on sustainability. Often this first step is going to be to open the conversation more widely, engaging all employees in the process as well as board members, investors etc. Or it might be that there's an initial piece of work to be done to identify the areas of sustainability that make sense for the business to focus on. 
Equally, if there's appetite for immediate action, you might want to consider carbon offsetting and removal. Purchasing credits for high-quality carbon offset and removal projects is a way to have an immediate positive impact by funding projects that are leading the way in solutions to climate change.
It's a great first step in your climate journey whilst working on a wider sustainability plan.
Having a first step like this will ensure that momentum stays high by showing that positive climate impact can be made quickly, and you should start to see the business benefits from this to add coal to the fire. Which is not a great pun to use in the context of climate change, we now realise. 
Part 2: Making the business case for sustainability
It's clear that businesses have a pivotal role to play in tackling climate change, from reducing emissions throughout existing supply chains to coming up with new, lower impact solutions.
But what's in it for the business?
Well, a lot, as it turns out. 
For a long time profit and purpose have been seen as at war. That's changing, with movements like B Corps that effectively combine the two growing more and more rapidly. Climate positivity doesn't have to cost you revenue. Businesses can generate economic value by addressing social and environmental problems. 
The key ways that sustainability creates value to a business: 
Win customer loyalty
Increase profitability 
Improve employee proposition
Make immediate cost savings
Create opportunities for innovation
Manage future risk.
Win customer loyalty
Making sustainability a priority makes commercial sense.
It will boost your reputation and help you to differentiate and gain market share – winning new customers and the long-term loyalty of existing customers by aligning with growing consumer preferences.
72% of the UK public believe that businesses should have legal responsibility to people and the planet, alongside maximising profit (B Lab UK and Regenerate survey, May 2020)
80% of consumers say that sustainability is a priority, and 70% will pay a premium price to shop with a sustainable brand (IBM, June 2020)
71% of millennials and 67% of Gen Zers say that addressing climate change is a top priority for their generation (Pew Research Center, May 2021)
71% of consumers would choose a 'green payment' method given the option, and 77% would stay loyal to a brand that automatically offset the carbon emissions of their purchase (Lune, September 2021)
As you can see, the results are in: customers want to know that the businesses they buy from share their values, and are taking actions to tackle climate change. They're willing to pay extra for it, and they'll be loyal to those that do it well.
For more detail on gaining customer loyalty through climate impact, head to our blog: The psychological reason that business climate action leads to customer loyalty.
Increase profitability
The commercial benefits of business sustainability are visible in financial performance too.
With customer loyalty and market share gains comes increased profitability and business growth. Not only is that good for the business, but it's also something that investors are now looking for when evaluating the health and long-term viability of their portfolios – so being able to demonstrate you're prioritising sustainability can strengthen relationships with existing shareholders, and attract new investment too. 
A review by Arabesque and University of Oxford analysed existing reports on sustainability and financial performance, and found that 80% demonstrated a positive correlation between stock price performance and good sustainability practices (2016). Plus, research by the Enacting Purpose Initiative predicts that over the next 15 years we'll see companies with a greater sense of purpose earning 9% higher total shareholder return, with 10% higher growth. 
In fact, we're already seeing this happening. Unilever is a great example. They launched their Sustainable Living Plan in 2010, aiming to "prove that sustainability and successful business performance are linked." Analysis of their business growth since then shows that over the past 12 years, brands under the Unilever umbrella which have purpose and sustainability deeply embedded in them have been growing at 175% faster than those which don't. 
"A company cannot achieve long-term profits without embracing purpose and considering the needs of a broad range of stakeholders. A pharmaceutical company that hikes prices ruthlessly, a mining company that shortchanges safety, a bank that fails to respect its clients—these companies may maximise returns in the short term. But, as we have seen again and again, these actions that damage society will catch up with a company and destroy shareholder value. By contrast, a strong sense of purpose and a commitment to stakeholders help a company connect more deeply to its customers and adjust to the changing demands of society. Ultimately, purpose is the engine of long-term profitability."
– Larry Fink, 2020 BlackRock letter to CEOs
Improve employee proposition
It isn't just customers that are looking for brands that align with their values. It's your employees (and potential future employees) too. 
Happy, motivated employees are integral to a successful business. They enhance productivity across the company. They talk positively about the brand to those they meet, enhancing reputation and even acting as a referral scheme to win you new customers. They're also more likely to stay in their job for longer, meaning that knowledge and experience remains within the business – reducing time lost in handovers and training up new employees. Not only that, but retaining employees saves money too, with a reduced need to pay for recruiters and job advertising sites. 
So prioritising sustainability is an important way to find and retain the best employees for your business – avoiding them leaving for more purposeful roles, as we've seen in the 'Great Resignation' of 2021-22.
A 2020 McKinsey report found that 63% of employees want their employer to provide more opportunities for purpose in work — and that positive employee experience makes staff members 8 times more likely to stick with a role.
A survey by Swytch found that 75% of millennials would take a decrease in salary to work for an environmentally responsible company.
Make immediate cost savings
Becoming an environmentally conscious business includes addressing your own carbon footprint as an organisation.
Resource efficiency lies at the core of this, which also means that there are cost savings to be made by making environmental improvements.
Energy use is, perhaps, the best example of cost savings made through sustainability.
Energy bills can be a very costly part of running a company. Retail businesses often have warehouse space which needs to be kept dry and at a constant temperature. Manufacturing businesses have production facilities with a substantial amount of machinery, which can be running 24/7. Hospitality businesses need their buildings to be cool in the summer but warm and cosy when the winter months come. And it goes on.
Often these energy bills are substantially higher than they need to be, because energy is being wasted through inefficiencies in the building. This might be draughty, single-glazed windows, an old boiler, uninsulated walls, or poorly fitting loading bay doors. Making changes to improve energy efficiency will stop excess energy being wasted, cutting costs whilst also reducing carbon emissions.
Beyond energy, cost savings can also be made through other efficiencies, such as:
Transportation: reducing business travel by booking virtual meetings or cutting down on overseas conferences, swapping to electric vehicles for good transportation and delivery, reviewing transport routes to see if journey planning could be improved, incentivising employees to travel to site by bike, public transport, or car sharing.
Waste: reducing waste of raw materials used in product manufacturing, ensure recycling programmes are in place.
Create opportunities for innovation
Business sustainability is also a driver of innovation.
Finding ways to reduce your own environmental impact as a company might mean redesigning products or processes – or even inventing new ones entirely. 
Exploring ways that your company could contribute to climate solutions might mean introducing a new branch to the business. And incorporating sustainability into the core of what you do could include innovating with new, improved customer experiences which include climate impact (supported by Lune) – which could, in turn, open your brand up to new markets and growth opportunities.
This is what happened for Proctor & Gamble. When they conducted a life cycle assessment of their products, they found that US households were spending an average of 3% of their annual electricity spend on heating up water to wash their clothes with. In response to this, Proctor & Gamble launched a line of 'cold water' laundry products that don't require hot water to work well, enabling customers to wash their clothes at a lower temperature, cutting their energy consumption down. When brainstorming business sustainability, this probably wasn't something that they'd even put on the table, but the process of becoming a more sustainable brand opened up an opportunity for a new product line.
Manage future risk
Right now, being climate positive is still an option for businesses to weigh up. In the future, it will no longer be a choice but a necessity.
There will be more and more pressure to prove that we're addressing our environmental impact in business; even now we're starting to see corporate liability for greenhouse gas emissions being legally enforced. Businesses will also start to experience climate challenges which they'll need to adapt to, such as supply chain uncertainties, disruption due to increased numbers of extreme weather events, and so on. In a study on 8,000 supplier companies, 72% of respondents said that climate change presents risks that will significantly impact operations, revenue, or expenditure.
All of this means that climate change represents a real risk to business in the near future. Which means that it's in your best interest as an organisation to do something about it, and help to mitigate that future risk.
These risks also mean that there's an opportunity cost associated with not exploring sustainability now – because your competitors sure will be. 
For a more detailed discussion on the business risks that climate change poses, go to our blog: 3 reasons that the biggest business risk we face is now climate change.
Key takeaways 
There's been a lot of information in this guide so far, so we want to take a moment to recap some of the key takeaways. 
When making the business case for sustainability remember:
Sustainability and business growth are not at odds, in fact prioritising sustainability will increase profitability and help you identify new growth opportunities
Being a climate positive company will gain you the loyalty of customers, employees, and investors 
Starting your climate journey now reduces future risk from climate impacts, as well as getting you ahead of competitors to be seen as sustainability leaders in your industry.
Combine these with your unique knowledge of your target audience, the existing commercial goals of your company, and the priorities of the stakeholders you'll be pitching to, and you'll be well on the way to getting buy-in from on sustainability from your senior leadership team.
Don't forget to download your free slide deck template
Thinking about how to put together a powerful set of slides bringing together all this key information to present to your senior leaders? We've put together a template to help you get started – simply download a copy and tailor it to fit your situation.
If you need any further help or advice to ensure that climate change is a key priority in your business, please don't hesitate to get in touch using the form at the end of this post  – we're always happy to have a chat.