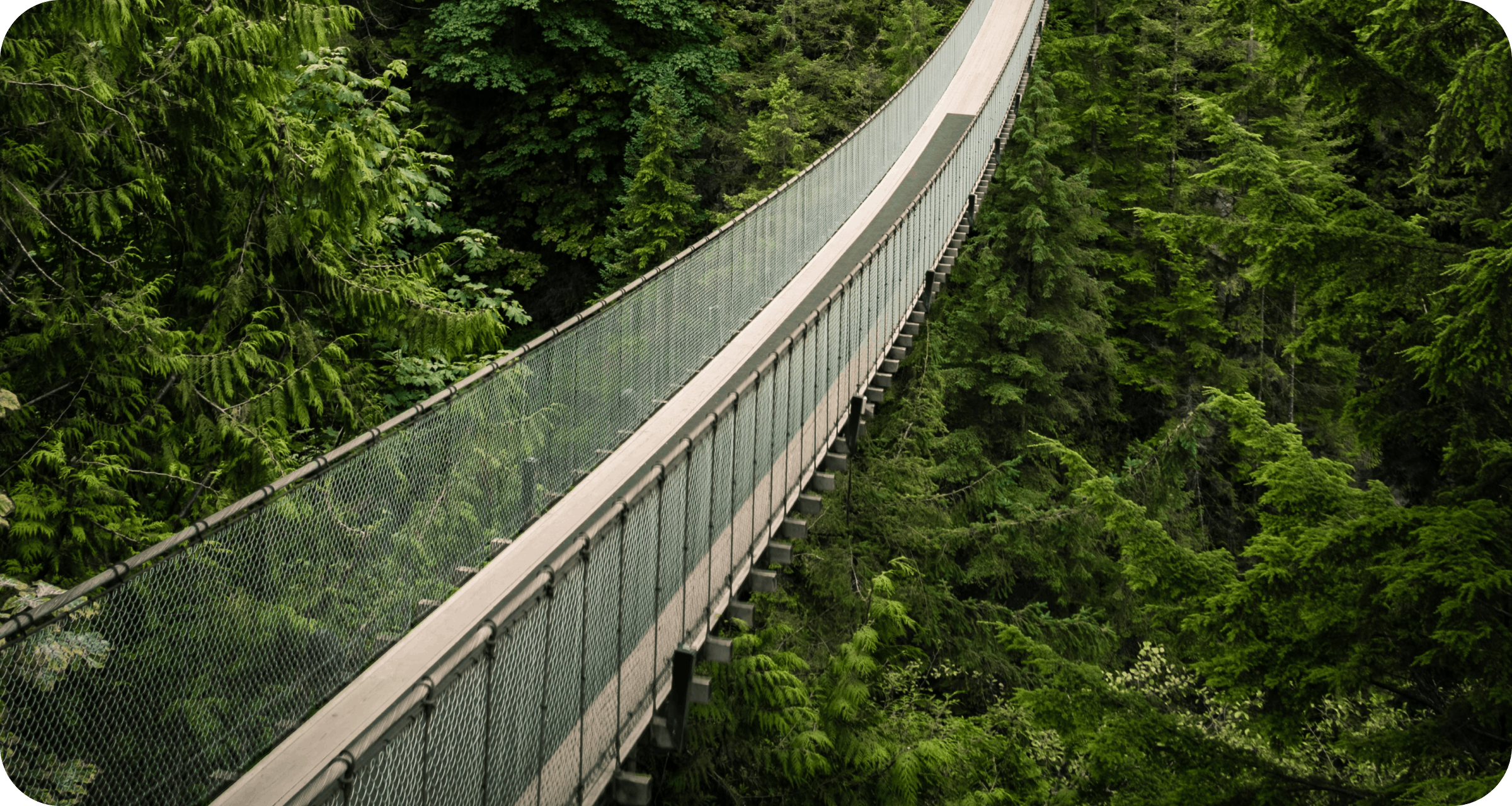 Climate change = business risk.
Risk management has always been a big part of growing and managing any company. From compliance to cybersecurity to new competitors entering the scene, there are a bunch of threats that businesses face.  Some sectors, like finance, even have whole teams of risk management experts who model different risk scenarios to minimise business risk.  
And climate change is rapidly becoming one of those risks, affecting every sector and industry in a major way.
There are three key areas of risk, which we'll explore in more detail throughout this post:
Physical risk – increasing temperatures and extreme weather events causing supply chain disruptions.
Legal risk – mandatory reporting requirements on emissions are coming.
Reputational risk – the risk of doing nothing on climate impact, when competitors are, will leave businesses vulnerable.
It's in your best interest as a company to act now to mitigate these business risks of climate change – it's one of the many reasons that businesses have such a big role to play in responding to climate change.
1. Physical risk
Climate impacts are already wreaking havoc on global supply chains.
Extreme weather events and increased temperatures are causing issues with the availability, pricing, and transportation of goods across all industries.
Here's just a few (of many more!) examples from this year alone:
And this is just the beginning.
Temperatures will continue to increase and extreme weather events will become more and more regular, posing massive risk to the entire global economy and movement of goods. Plus, sea levels will also start to rise – which, given that 90% of the world's freight moves by ship, will magnify the issue.
How can businesses prepare for supply chain disruptions?
Well, businesses need to start adapting to this now. 
As a 2020 paper published in Maritime Policy and Management put it: 
"Global supply chains will be massively disrupted, beyond what can be adapted to while maintaining current systems." 
Companies will need to map out the risks and uncertainties for their particular use case, across both supply availability and route disruptions, and identify ways to mitigate, adapt, and overcome the risks – just like you would with any other kind of business risk. That might mean diversifying inventory, implementing dual supply chains, or finding local suppliers.
2. Legal risk
Right now, acting on climate is still an option for businesses – but legal enforcement is on the way.
From 2018 to 2019 alone there were over 170 new regulatory measures relating to environmental impact since 2018, with 65% of those in Europe (Herbert Smith Freehills).
Until recently, most of these measures relating to companies were pushing for voluntary reporting on climate impact. 
That's set to change.
Countries are committing to ambitious climate targets, and realising the importance of bringing businesses with them in order to meet those targets. 
With that, we're seeing new regulations come into play which will legally enforce companies to report on and address their environmental impact:
In March 2022 the US Security and Exchange Commission (SEC) proposed new climate disclosure regulation which would mean all public companies would be required to disclose their climate impact, including information on governance, risk management, and goals.
In June 2022 the European Parliament agreed new EU legislation requiring all companies of over 250 employees to publish regular reports on their environmental impact activities – the Corporate Sustainability Reporting Directive (CSRD) – which will come into force in January 2024.
In 2021 the UK announced new Sustainability Disclosure Requirements (SDRs) with implementation planned for 2023-4, which will require businesses to report on their climate impact and activities across four pillars of governance, strategy, risk management and metrics/targets.
Undoubtedly, there's more to come.
We may even see global standards on how businesses report sustainability – the International Financial Reporting Standard (IFRS), for instance, is consulting on whether they should create a global sustainability reporting standard, and what that would entail. 
Most of this new legislation is driven by the desire for there to be regular, consistent, and reliable information on the climate impact of businesses to a) contribute to government level targets and b) for investors to be able to fully evaluate businesses.
But, litigation also has a role to play.
As pressure piles on for businesses to fulfil their responsibility to act on climate, we're also seeing companies facing litigation on their climate-related activities by:
How can businesses prepare for mandatory climate reporting?
Companies need to be sure of their current environmental reporting requirements, and be on the lookout for new developments, ensuring they're meeting legal requirements. 
It's sensible to get ahead of the game too. 
Don't wait for legislation to catch up with your climate impact: start prioritising climate now. 
Calculating your current emissions, identifying areas to reduce them, and exploring quality offsetting to compensate for the rest is the place to start.
And, of course, if you do want to talk about your climate commitments publicly, make sure you're being honest, transparent, and evidence-based to avoid those greenwashing allegations.
3. Reputational risk
Market share will be lost by doing nothing on climate – because competitors certainly will be. Or by approaching climate impact in the wrong way – because we need real climate impact. There's real reputational risk involved in climate change for businesses.
Customers (plus employees and investors too) are actively looking for climate-friendly brands – and staying loyal to those whose sustainability initiatives they trust. 
Brands that fail to embed impact into their product or service put their reputation at risk – and will have to contend with the threat of losing market share to competitors in their industry who are succeeding on climate.
And it isn't just in the B2C consumer space. 
As businesses come under more pressure to make climate positive changes, they'll be looking to their suppliers – because for most companies, scope 3 emissions from the supply chain make up the vast majority of a company's carbon footprint.
This graph from the UN Principles for Responsible Investment shows just how significant supply chain emissions can be for a business, with the dark blue representing the emissions from the supply chain in each category: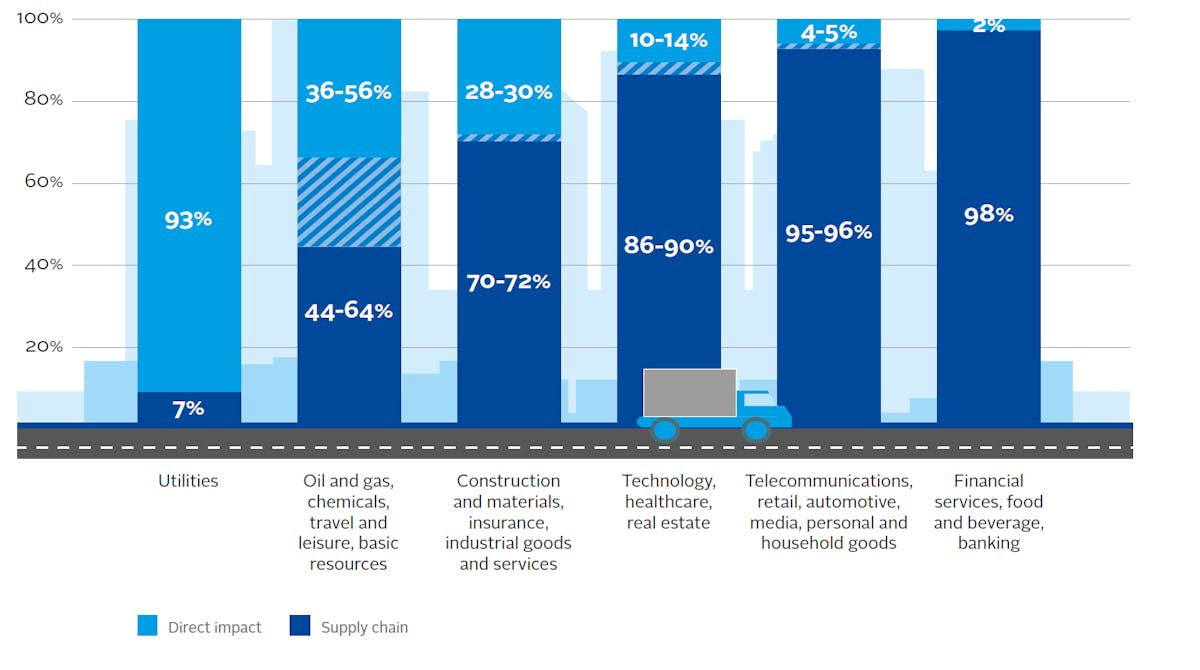 This is a risk for those in the B2B supplier space – the companies supplying other companies with materials, goods, and services – because companies will be looking to reduce their supply chain emissions in order to address their overall impact. They'll be requiring detailed reporting from suppliers on their emissions, and potentially swapping to suppliers with lower environmental impact.
We're already seeing this happen. For instance, Lego implemented their 'engage-to-reduce' programme, working with their suppliers to reduce their carbon emissions. And frameworks like B Corporation are encouraging companies to vet suppliers based on environmental (and social) impact.
Take a logistics business, for instance. 
Their customers are largely retail and e-commerce companies. As those companies look to reduce their own impact, they'll be looking for logistics suppliers who can offer sustainable solutions – efficient route planning, lower impact transport options, automated emissions calculations for route and transport type, credible offsetting for product journeys etc.
Or a financial firm. 
Their business customers will be looking for sustainable payments solutions – banks that have removed investment from fossil fuel companies, payments solutions that enable automated offsetting of purchases, debit cards that enable visibility of the emissions of any purchase etc.
Supplier companies that can't offer truly sustainable solutions will lose business.
How can businesses mitigate reputational risks?
Doing nothing on climate is the absolute worst thing you can do as a business.
To remain competitive, businesses need to make climate a top priority, now – customers are already making decisions based on environmental factors, and that's only increasing.
At the same time, when companies do implement sustainability initiatives, they need to resist the temptation to plaster their green credentials over every piece of PR and marketing. 
Communications on business sustainability need to be evidence-based and transparent to gain the trust and loyalty of customers, and to avoid those allegations of greenwashing which (at best) could damage the brand's reputation and (at worst) leave the company open to the kind of litigation referenced earlier.
The key takeaways
Ultimately, the message here is that climate change is likely the biggest risk to profitability for businesses, now and in the coming years.
Companies will be forced to act on climate by the physical and legal risks that threaten them, as well as by customers that demand change.
If your business hasn't already started working on climate risks, you're already falling behind. 
Now is the time to prepare for coming legislation – calculating, reporting on, and reducing environmental impact – and supply chain issues – working collaboratively with suppliers to identify sustainable solutions, and innovating to adapt to the new, climate-impacted economy we face.