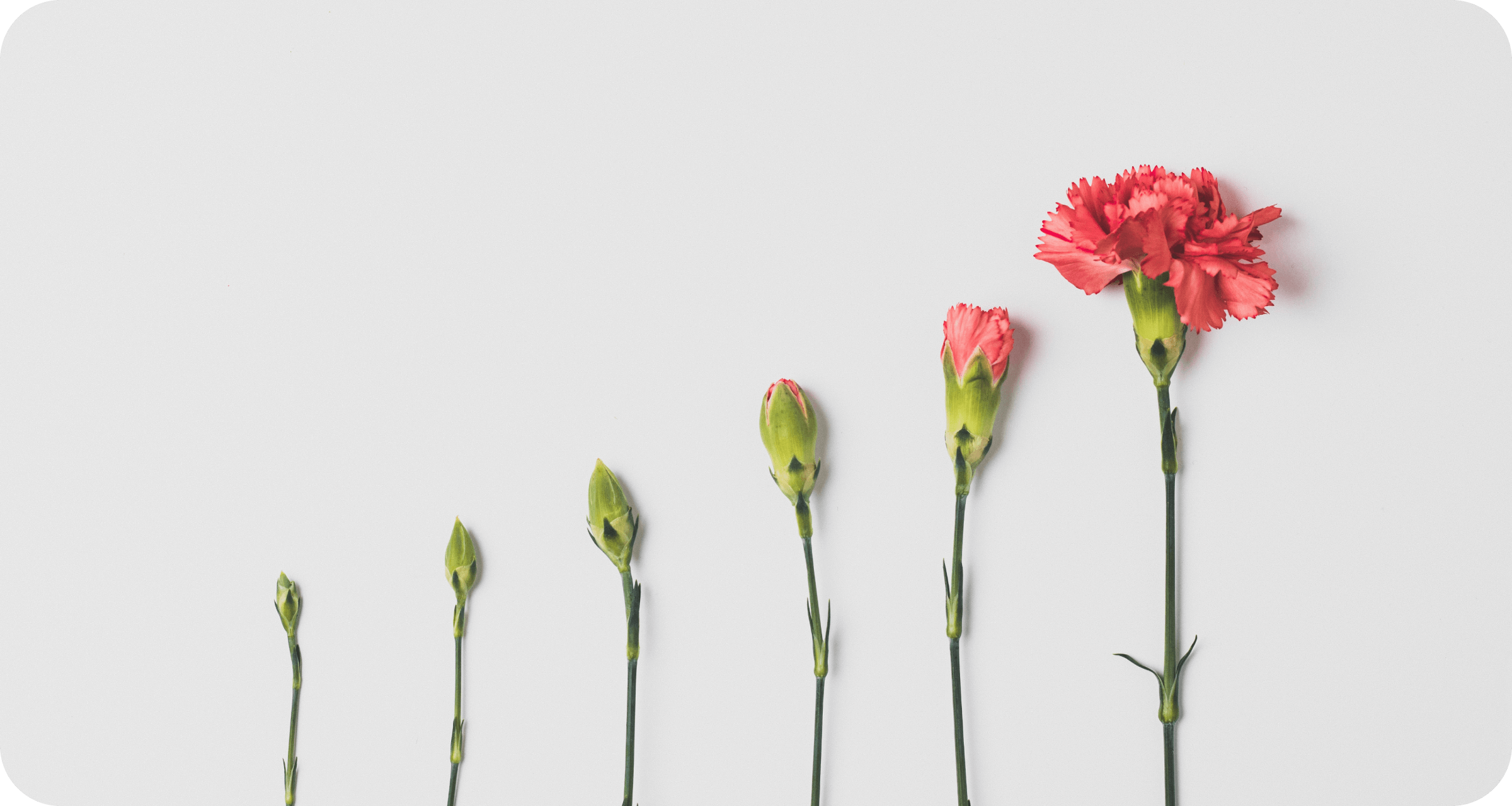 Climate impact is a differentiator for payments companies. Customers are looking for green payment options, which means that offering green payments as a value-added service enables payments companies to accelerate existing KPIs such as revenue growth for themselves, and for their merchants. And we have the research to prove it...
I've spent two months interviewing people building fast-growing payments companies – specifically ones that impact consumer experiences. I've become obsessed with understanding their pain points, commercial metrics, their brand beliefs, and their employee propositions.
To put it bluntly, I want to know: how do you make payments... sexy? 
How do you get people to love and prefer a particular transactional experience?
The results of my research have been revelatory, so I wanted to share the story.
Here's everything we've learned, including some astoundingly cool insights from a survey we conducted with 500 general consumers across the UK and Europe.
Payments companies struggle to differentiate, yet aspire for loyalty
Payments companies are – to paraphrase their own words – totally undifferentiated.
And yet, every single product manager or senior exec I spoke with hammered home one universal message: convert new customers, build loyalty, accelerate market share. 
Strategically, this makes sense.
Laser focus on a few commercial goals and results will follow. It's no wonder, then, that the individuals we interviewed feel a collective lack of bandwidth (or reason) to think beyond the payments needs of the merchant.
...but what do merchants care about? 
Do merchants care about fast and easy payment experiences? Sky-high acceptance rates and effortless reconciliation? Yes, surely these things are integral to the foundations of a successful modern business. But few business owners feel passionate about starting their own business because their payments will be easy.
Merchants care about their customers.
Payments companies that fall short on serving the needs of the end user compromise their opportunity for market dominance, and even worse, position themselves on their back foot as a market lagger. 
Customers want green products & services (but they don't yet exist at scale)
Neglecting the end-to-end customer experience means payments companies focus on an incomplete picture, and leave money on the table. 
By offering responsible, or "green", payments as a value-added service to merchants, payments companies can differentiate, gain competitive advantage, and accelerate existing KPIs such as revenue growth for themselves – and for their merchants. 
Now more than ever, we know that consumers care about impact through sustainability – the research makes that abundantly clear.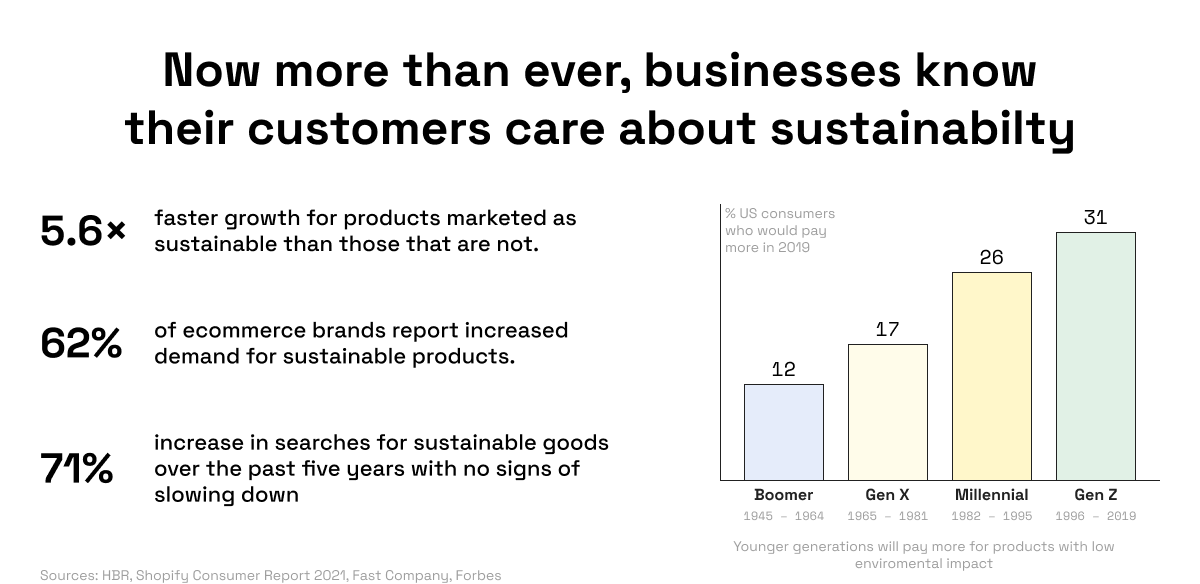 Products marketed as sustainable grow faster, and are preferred by the majority of young consumers. Similarly, a majority of e-commerce brands are seeing increased demand for green products and services.
Sounds compelling, right? 
But all we kept hearing from the payments folks was: "Sounds cool, but so what?"
They wanted the specific evidence that a green payments option would align with these trends.
We accepted a direct challenge from a Chief Revenue Officer of a fast growing payments company:
So, we surveyed 500 consumers (statistically significant sample size) – without assumptions of background climate knowledge – from the UK, Finland, Sweden, France, and Germany to better understand their attitudes and towards a green payments proposition. 
Here are the results.
1. We asked: 'When making a purchase, how likely are you to choose a "green payment method" that tackles climate change at no additional cost to you?'
Result: Three out of four consumers wants a "green payment method" that tackles climate change but it does not exist today.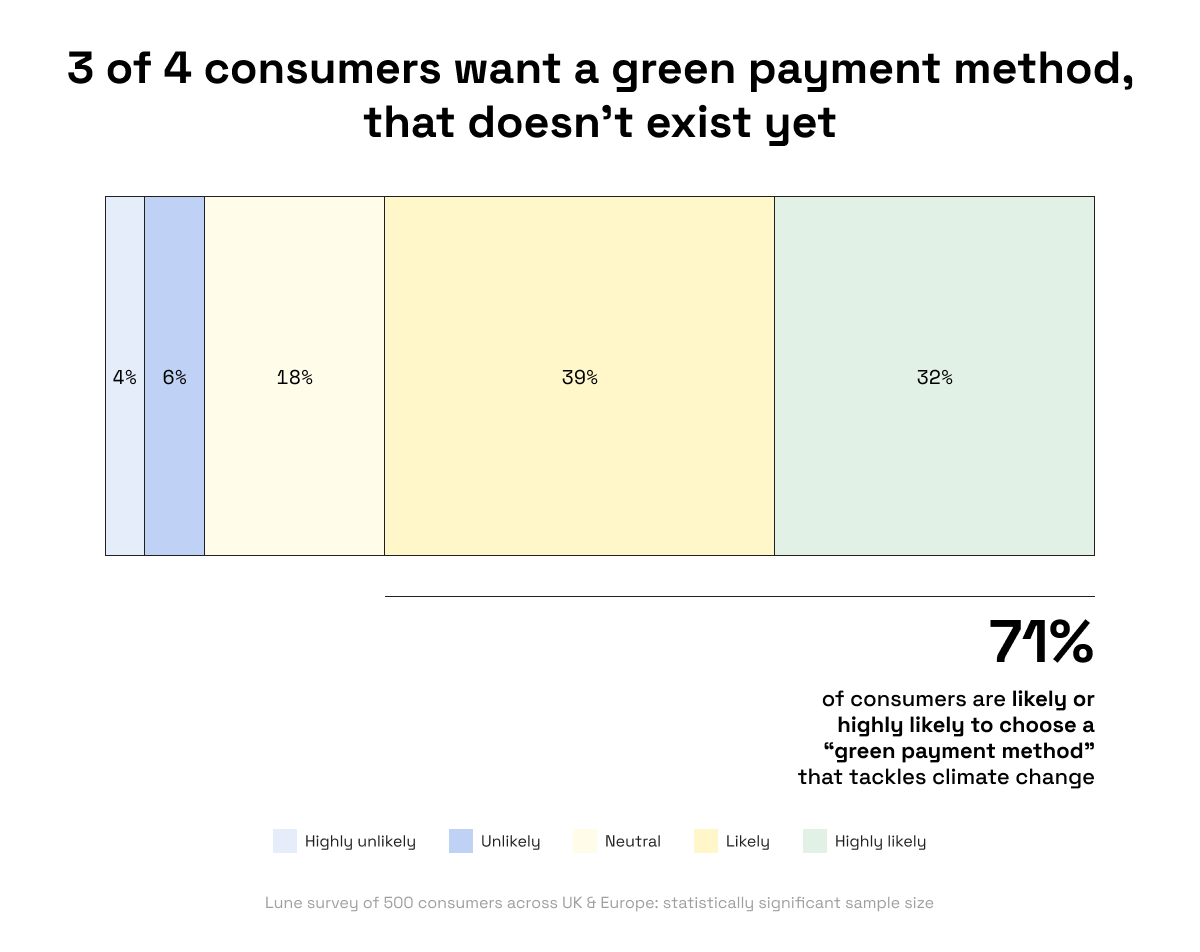 2. We asked: 'If a brand automatically offsets the carbon footprint of a purchase, at no additional cost to you, how much more likely are you to buy from them again?'
Result: Merchant carbon offsetting drives loyalty! 77% of consumers would stay loyal to brands that carbon offset purchases automatically.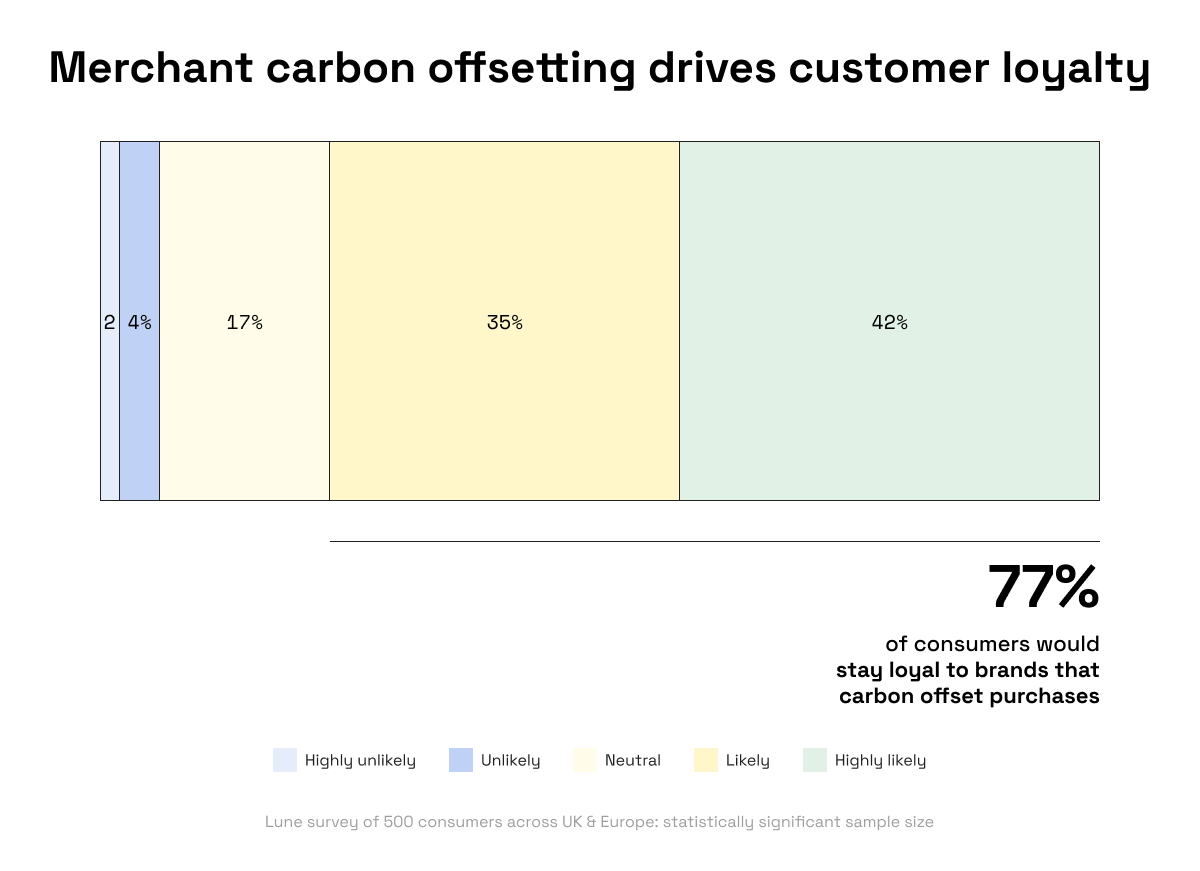 3. We asked: 'How interested would you be if a retailer gave an option to support carbon offset projects with your purchase?'
Result: A majority of consumers (67%) want retailers to offer the option to carbon offset their purchases.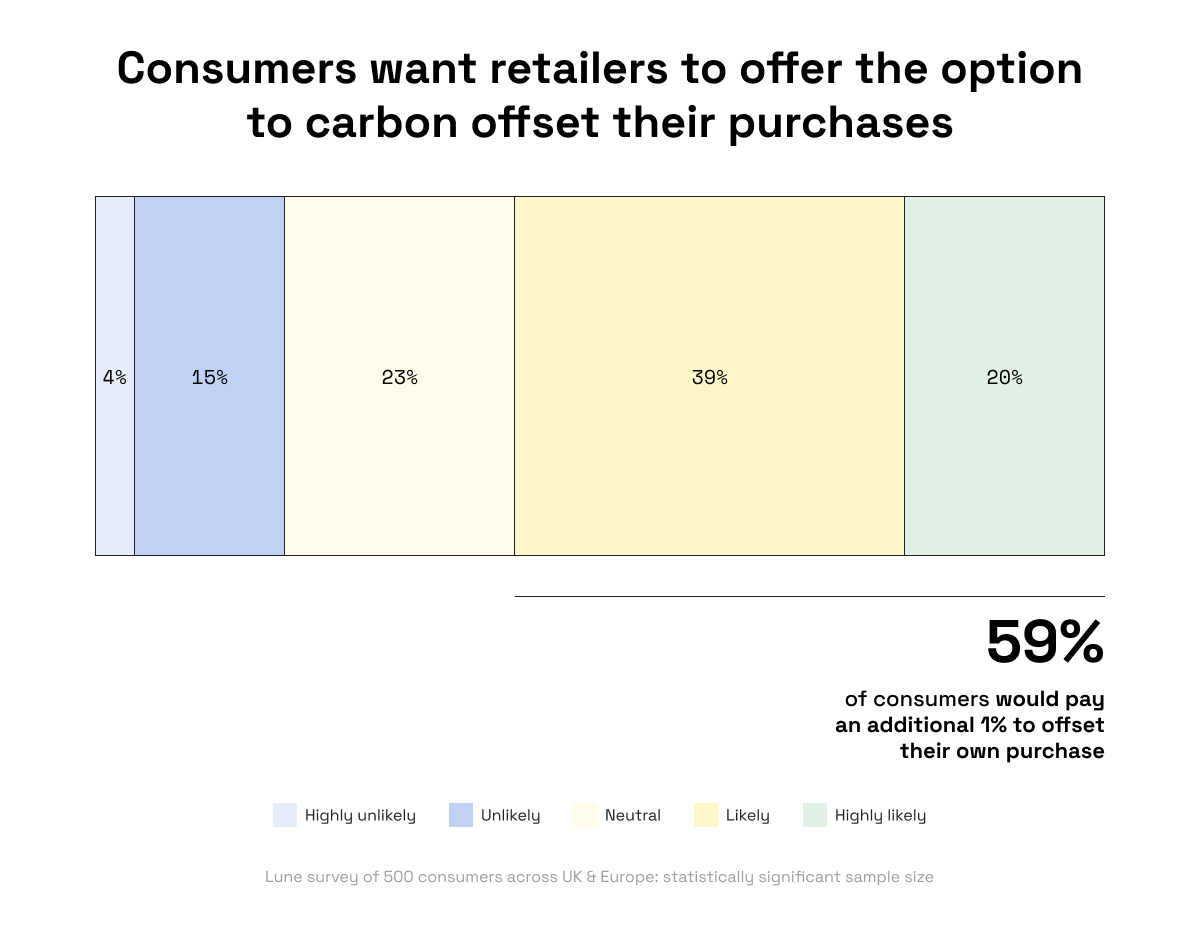 4. We asked: 'If presented with the option to make an online purchase carbon neutral, for 1% of the purchase value, how likely would you be to choose this option?'
Result: Consumers are willing to contribute, too. 59% of consumers would pay an additional 1% of the purchase value themselves to offset products and services.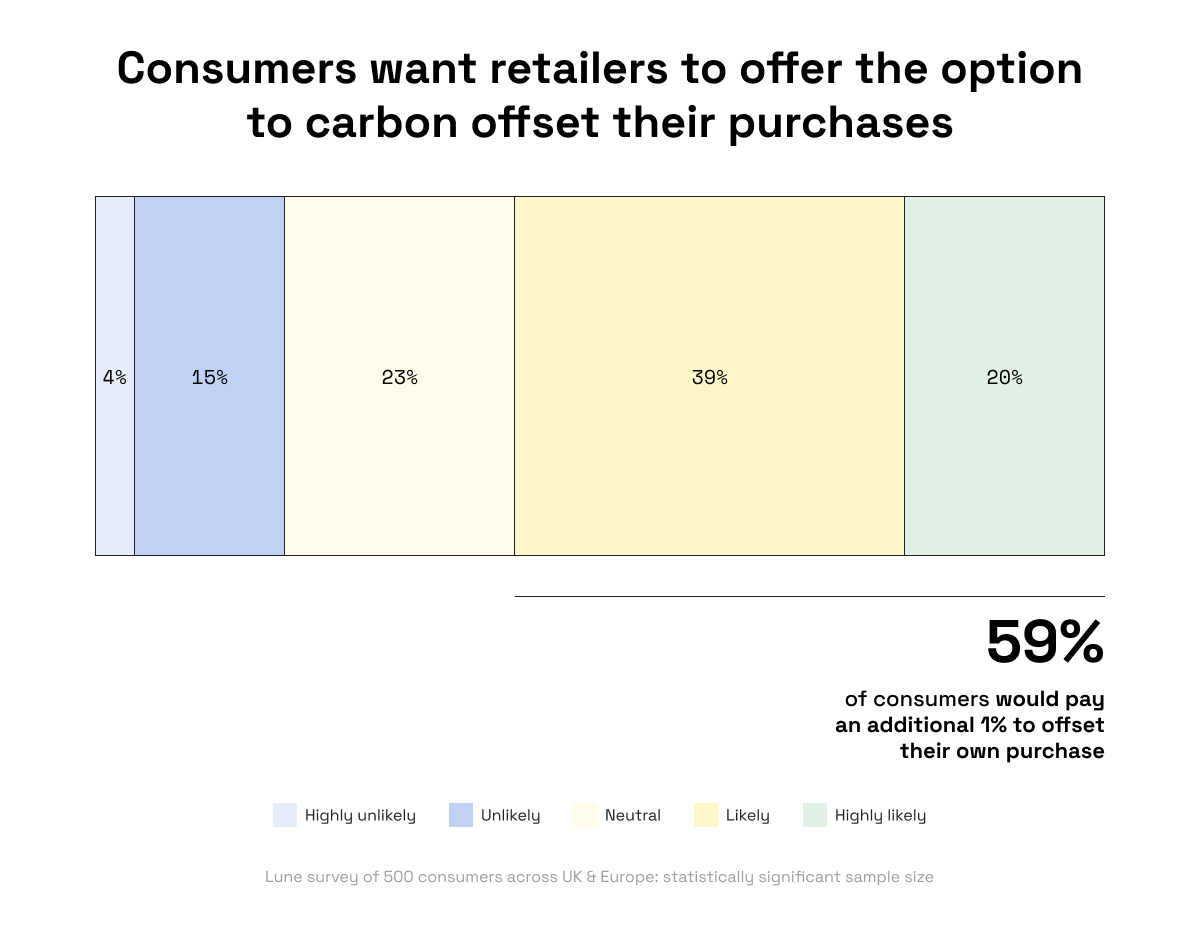 The markets are ready for climate impact with measured ROI 
So the results are in, consumers are screaming for frictionless ways to have a positive climate impact with every payment. The next phase of hyper-growth in payments lies in sustainability, bringing climate positive action into every single payments transaction.
According to our consumer survey, the story is beginning to write itself.
Business growth and the commercial ROI companies are looking, whilst making a difference for the planet – what more could you want?
And at Lune we're here to make it easy for payments companies to achieve that – our API product enables companies to build impactful carbon offsets into any service.
Thanks for reading this far! Get in touch for an initial chat about how Lune can help you meet customer demand and truly differentiate by embedding carbon offsetting into your product – or sign up to the Lune dashboard to start exploring straight away.