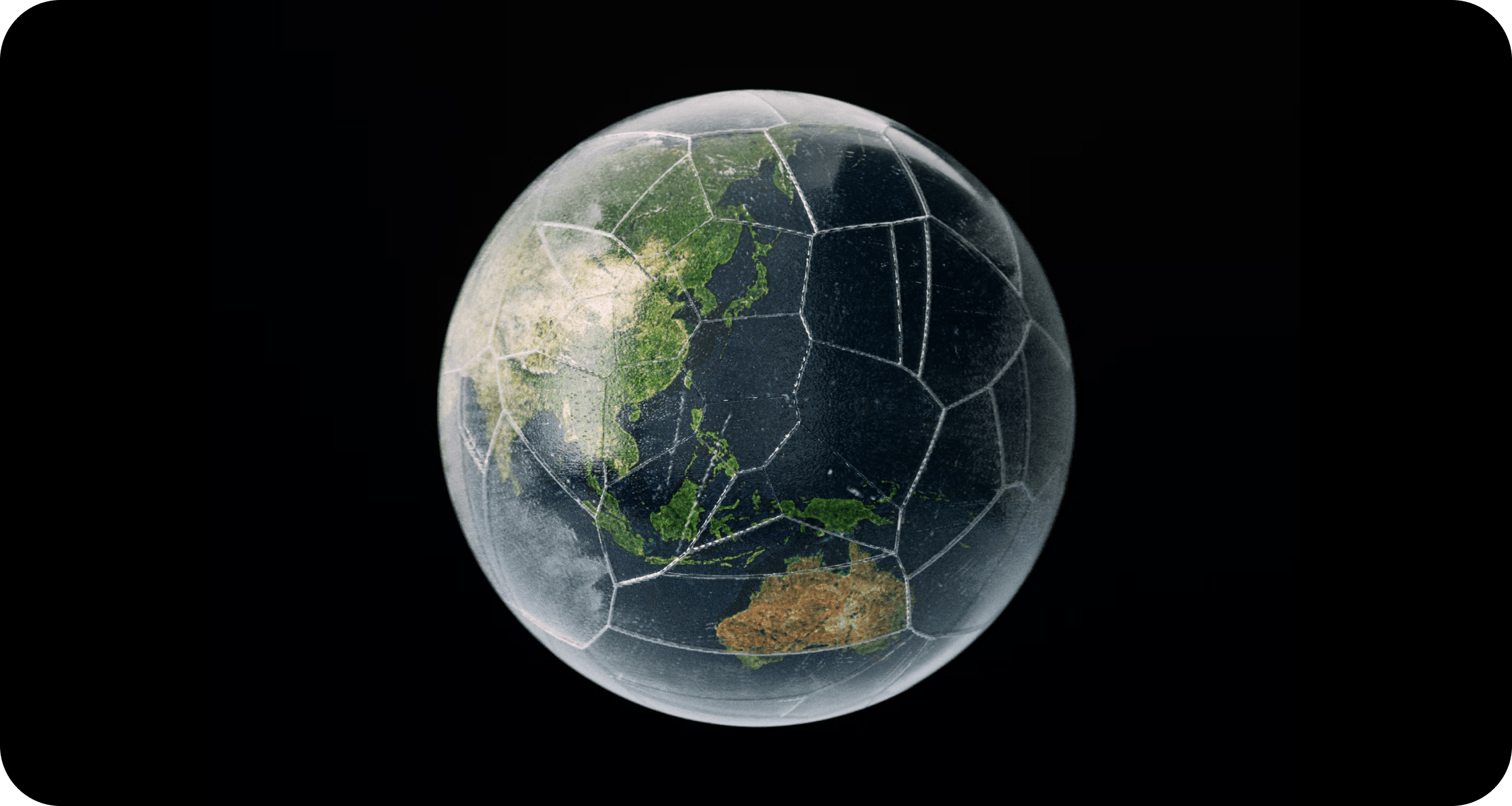 Too many business sustainability strategies are nothing more than hot air.
It's easy to write a sustainability report full of promises to be a more eco-friendly company. It's harder to follow through and turn those promises into actions. And even then, many of the typical actions taken by businesses will make very little difference in the big picture of the climate emergency we face.
To address climate change, we need businesses to be true climate leaders.
Businesses are uniquely placed to have an exponentially positive impact for the planet.
They have the ability to decarbonise the economy, influencing the actions of customers and bringing innovative new ideas to life. But to make that happen, businesses must commit to taking real action on climate change – and that starts with a sustainability strategy.
We think there are four non-negotiables in developing a sustainability strategy with impact:
Integrate sustainability into your existing business plans
Address your company's carbon footprint
Identify ways to use your influence beyond your footprint 
Communicate transparently about your climate journey
In this post we'll cover how to approach these.
And to help you along the way, we've also put together a checklist you can use when developing your own company's sustainability strategy, to ensure your climate efforts yield true, lasting impact on the planet.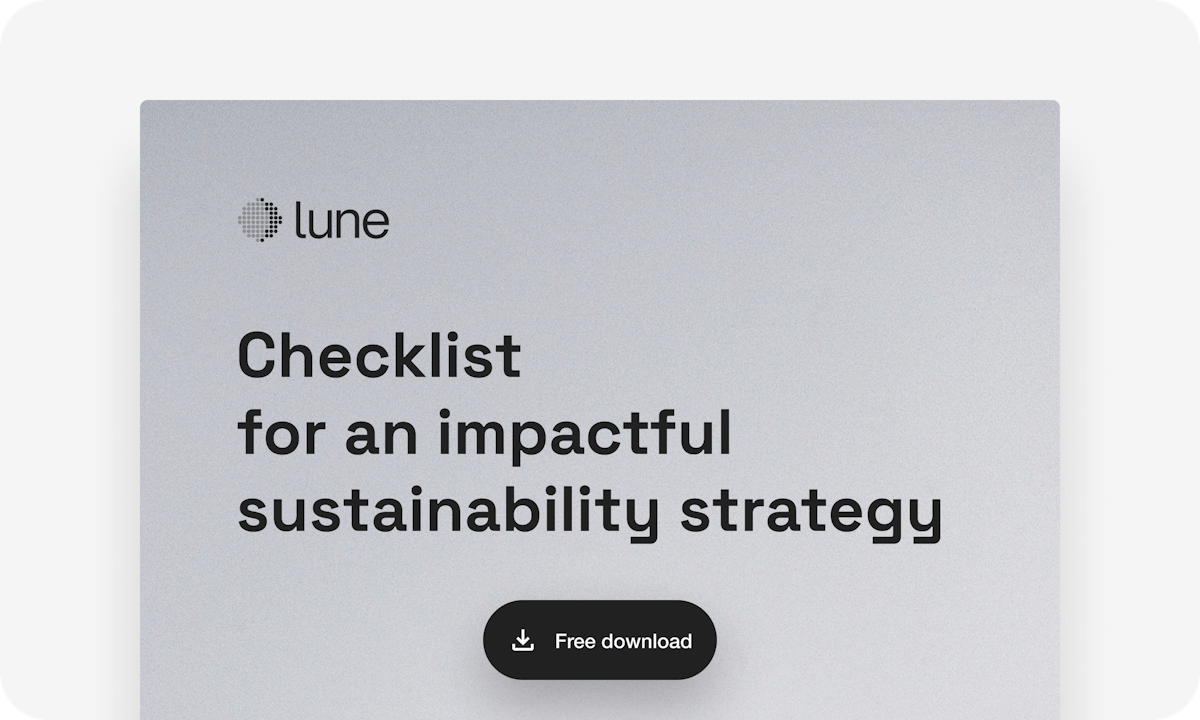 Part 1: Incorporating sustainability into an existing business plan
Truly climate conscious companies embed sustainability at the core of all business activities and decisions, using the business as a mechanism to create value for the planet.
That means bringing sustainability into your existing business plan, making it a priority rather than an add-odd or standalone project. The company's mission, vision, plan and goals become fully aligned with the need to keep to 1.5°C of global warming. 
This isn't an easy task, but ultimately it's necessary. Climate change is here, which means changes and adaptations for all of us – including businesses. Plus, there are very compelling business reasons too. With customers asking for eco-friendly options, sustainability and growth go hand-in-hand. 
So how do you go about bringing sustainability into your business plan?
Well, you'll need to:
Listen and understand your customer's relationship with climate action – what are they asking for? What actions are your competitors taking?
Interrogate your existing business mission, vision, value proposition, strategy/plan, and goals through the lens of sustainability – are your existing goals compatible with the need to keep to 1.5°C of global warming? Is your company creating value in the response to climate change?
Get buy-in from your senior management and company decision makers to make climate a priority for the business
Be open to making fundamental changes to your business plan and goals if they aren't compatible with sustainable goals – whether it's about making changes to day-to-day operations such as adding an environmental clause to how you source suppliers, or about reviewing your product roadmap to look at new, innovative products and services aligned with climate action.
Set realistic but ambitious climate goals and targets, aligned with commercial goals and targets. This should include reducing your own environmental impact as a business, but also look beyond this – more on this to follow. 
Take Patagonia as an example. 
Climate positivity is woven throughout Patagonia's core values as a business:
Build the best product. Our criteria for the best product rests on function, repairability, and, foremost, durability. Among the most direct ways we can limit ecological impacts is with goods that last for generations or can be recycled so the materials in them remain in use. Making the best product matters for saving the planet.
Cause no unnecessary harm. We know that our business activity—from lighting stores to dyeing shirts—is part of the problem. We work steadily to change our business practices and share what we've learned. But we recognize that this is not enough. We seek not only to do less harm, but more good.
Use business to protect nature. The challenges we face as a society require leadership. Once we identify a problem, we act. We embrace risk and act to protect and restore the stability, integrity and beauty of the web of life.
Not bound by convention. Our success—and much of the fun—lies in developing new ways to do things.
Sustainability is placed at the heart of every business decision Patagonia makes, rather than being a second thought – from the durability of their products to their Worn Wear clothes repairing initiative to their 1% for the planet commitment.
Here's a tip that might help – you don't need to reinvent the wheel to effectively embed sustainability into your company. Take a look at B Corp Certification, a trusted framework for finding a balance between profit and purpose, which includes environmental impact – becoming B Corp certified could be a great goal to incorporate into your business plan. 
Part 2: What should be included in your strategy
There are two key elements that should be covered in every sustainability strategy: 
How you plan to address the company's carbon footprint
The ways you plan to use your influence to have a positive climate impact, beyond your own carbon footprint. 
Addressing your carbon footprint
Every business should make it a priority to address their own carbon footprint, aiming to reduce emissions in line with keeping global warming to 1.5 degrees.
This includes three steps – and in your sustainability strategy you should cover how you plan to go about these steps, with clear timelines and targets to keep you accountable. 
Step 1: Calculating your carbon emissions
Use a reputable carbon calculator to measure existing carbon emissions from all of your business activities. We'd suggest including scope 3 emissions in this – many businesses don't, but they typically represent a high proportion of a business carbon footprint.
Reminder: scope 1 and 2 are emissions controlled by a company, whereas scope 3 emissions are a consequence of the activities of the company but occur from sources not owned or controlled by it e.g. emissions from the supply chain of a product.
Take our own 2021-2 carbon footprint at Lune, for instance. Of the 38 tons of CO2 we're responsible for as a business, 35.1 tons comes from scope 3 emissions – that's a huge 92% of our footprint.

Step 2: Making a plan to reduce emissions where possible
The measurements you've taken of your existing carbon emissions become a baseline, from which you can identify areas which are contributing highly to your carbon footprint, and make targets to reduce your company's carbon emissions year on year.
To ensure that you're setting targets and reducing your emissions rigorously and in line with wider climate targets, we'd suggest aligning with existing, reputable frameworks such as Science Based Targets (SBTi) or TechZero.
You'll also need to ensure that someone within the company is responsible for hitting those targets – this could be incorporated into an existing team member's role, or you might want to consider hiring a dedicated sustainability lead.
And finally, transparency is always key. Make your emissions calculations and your targets public to keep you accountable. Depending on your company, this might mean sharing them with board members, shareholders, suppliers, customers etc.
Step 3: Offsetting unavoidable emissions
Reducing your carbon footprint isn't a quick process. One way to have an immediate impact whilst working on those plans is to offset your emissions in the meantime, to neutralise your carbon footprint.
Plus it's worth remembering that once you have reduced your carbon emissions, you'll inevitably still have a carbon footprint. Some carbon emissions are simply unavoidable when operating a business. Offsetting is a way to neutralise those remaining emissions.
Again, we'd recommend using an existing framework to ensure you approach carbon offsetting in the right way – greenwashing is a real risk here.
Aligning your offset purchasing with the Oxford Offsetting Principles will ensure you actually have the positive impact you plan to. We can also help you make this super simple as your partner for carbon offsetting – we have a ready-made bundle which automatically aligns offset purchases with the Oxford Offsetting Principles.
Looking beyond your own impact
Many businesses stop there with their sustainability strategy, focusing on how to reduce their own carbon emissions only, in a silo.
But, as previously mentioned, most businesses can make a much bigger contribution by looking beyond their own business carbon footprint to other ways they hold influence. 
Of course, your business proposition itself is a big factor in your contribution to the climate change response. Becoming a climate positive company might mean changing your product or service, or developing a new product entirely.
Beyond this, there are also many ways in which businesses hold influence in society which can be used to have positive climate impact – supporting existing industry initiatives, developing partnerships with other value-aligned brands or organisations, influencing government policy (locally or nationally), engaging your supply chain, engaging your employees etc.
All of these are worth exploring. In terms of getting the biggest bang for your buck, though, we see two of the most impactful routes for a business as:
To support climate solutions financially by committing a percentage of your profits – this is particularly valuable for carbon removal technologies due to the desperate need for funding to develop and scale up effectively.
Bringing your customers with you to supercharge the positive impact you could have.
The second has huge potential for every business, no matter who your customers are.
For a retail company, making every purchase climate positive at the point of sale would be game-changing in terms of shifting consumer patterns to a more sustainable pattern – whilst having the added benefit of showing your customers how committed you are to climate impact, gaining their loyalty. Integrating an API like Lune's into your customer experience, for instance, would allow you to automatically calculate the emissions associated with a purchase, and neutralise them (either yourself, or offering your customers the option to).
For a B2B industry like payments, bringing your customers with you means leveraging a network of the hundreds or thousands of merchants you work with. For instance, if you integrated an emissions calculation and carbon offsetting API like Lune's into your platform, you'd give every merchant a simple way to contribute to high-quality carbon offset and removal projects with every transaction – whilst also engaging their end customers with the idea of climate positive payments.
Or, a debit card company could show users the carbon footprint of their purchases and allow them to neutralise it directly through their app – just like green debit card Tred has done, integrating with our API. 
Similarly, for a logistics platform, allowing a network of merchants to optimise their routes according to the lowest carbon emissions and to neutralise associated shipping emissions at the time of booking, through the platform, would have a magnified impact – which is exactly what forward-thinking logistics company, Forto, have launched in partnership with Lune. 
And so on. 
In all of these instances, rather than just one company cutting their carbon emissions in a small way, a whole network of merchants and/or customers are working together to support the climate solutions reducing emissions and removing carbon from the atmosphere – multiplying the impact of that company many times over.
So, you should also consider the ways in which your business could make the biggest difference, and include your plans to do so in the sustainability strategy. 
We'd suggest focusing on how you're engaging your customers with your climate journey (like the ways outlined above), as this will also bring with it business growth and customer loyalty – and so will be easy to integrate into your existing business goals and plans and get that all-important buy in from senior decision makers.
Part 3: Transparent communications
The number #1 rule in creating an impactful sustainability strategy? Transparency is key.
It isn't easy to communicate your climate efforts as a business. Many companies fear getting it wrong and being perceived as greenwashing.
But, if you don't communicate transparently then you risk producing a sustainability strategy in a silo – we constantly see businesses who have produced a 'sustainability report' which no one ever sees. 
This has two consequences. 
Firstly, your company will lack accountability for its climate goals. This makes it easy for sustainability to drop down the list of priorities as other business needs arise.
Secondly, you're missing out on a big opportunity to further your impact. Previously we highlighted how bringing your customers with you can magnify your climate impact. But how can you bring them with you without clearly and effectively communicating your climate journey in the first place? The same goes for your employees and other stakeholders.
We've mentioned this already in this guide, highlighting the importance of sharing your plans and targets publicly to keep you accountable to them.
But this also shouldn't be a one-off.
Make it part of your strategy that you will commit to report on your climate journey at regular intervals, including progress made on your targets and any new initiatives being implemented, as well as next steps for continually making improvements. 
As mentioned, businesses often do this via an annual or quarterly sustainability report, which can be effective if distributed effectively. It's worth considering other methods of communication, though, such as hosting a talk or panel event, where there's more room for conversation about your journey and the wider need for business action on climate .
And importantly, you need to make sure you have your messaging on point when it comes to communicating climate – it's a complex and emotional topic which comes with a risk of being misleading or greenwashing, so you need to make sure you get it right to avoid damaging your brand reputation. 
A few tips:
Be honest. It can be tempting to try and oversell your climate work, but you'll gain more by being honest and authentic, starting with the truth of where your business is at, and sharing your journey to making improvements – no matter how small or slow that might feel.
Share your why. Sharing the story behind why your business has decided to make climate a priority, and how you're leading the way on climate helps to spread the message that business action is needed on climate change and open vital conversations – both within your specific industry, and beyond. 
Check your facts. There's a load of misinformation out there when it comes to climate change, and you don't want to add to that. Always use and cite reputable sources, especially for climate-related facts and figures.
Focus on solutions. Much climate communication centres around a 'doom and gloom' narrative, which can make people feel powerless. Focus instead on empowering your audience by engaging them in the future they do want to see – one where climate impact is embedded within the companies they support.
Engaging your employees with climate
It's also important to consider your employees as an audience too. Purposeful work is becoming more and more important as a factor in employees choosing companies to work with, and so working on business sustainability is likely to help with employee retention – but only if you communicate your plans with them well. 
Letting your team know you're launching a sustainability strategy is important. But, again, equally important is ensuring that it isn't a one-off communication. Commit to reporting back regularly to your entire base of employees on how your climate journey is going, where you're at on targets, and any next steps being made. 
Ideally, you also want to create room for employees to be involved in your climate journey, with regular chances to give feedback and make suggestions. And to truly integrate climate goals into your business, you might also consider tying individual employee goals to those goals of carbon reduction and climate impact. 
Next steps
So there you have it, the four non-negotiables we believe will help to ensure you develop a sustainability strategy with real impact.
If you'd like extra support with developing a sustainability strategy then get in touch, we're always happy to chat – especially about ways to engage your customers and bring them with you on your climate journey to increase your impact. 
And don't forget, if you're developing your own company's sustainability strategy and want to make sure it's as impactful as it possibly can be, we've put together a checklist to help you keep these things in mind throughout the process.